Are you considering using your bicycle for your daily commute to work? Fantastic! Bicycling is not only an eco-friendly choice but also a fun, cost-effective, and healthy way to get around.
We're delighted that you're contemplating transitioning to sustainable urban mobility by using a bicycle for your daily commute to work. To help you along the way, here are some benefits, tips, and advice for making it your primary mode of transportation to work. Take note!
Benefits of cycling to Work
Bicycles are a sustainable mode of transportation that doesn't emit polluting gases or contribute to traffic congestion. Bicycles, in all their forms and colours, create more peaceful cities, produce minimal noise, and have a lower CO₂ emission during their manufacturing compared to cars.
3. Physical and mental health
Regular pedalling improves cardiovascular health, enhances endurance, and reduces stress. It's an excellent way to stay active. A bike ride boosts creativity, reduces stress, and improves sleep quality.
Now that we've highlighted the benefits, let's move on to some key tips and advice:
8 Key Tips to Start Cycling to Work
1. Choose the right type of bike
The first thing you should do is find the right bicycle. Visit a bike shop or do some research online to discover a model that suits your needs. Consider factors such as comfort, weight, size, and the type of terrain you'll encounter on your commute.
Do you face steep hills on your way to work? In that case, an electric bike like the Ossby GEO might be the best choice. If your route is flatter with gentle slopes, traditional bikes are also an option.
Regardless of your choice, especially if you live in a city, we recommend a folding bike for easy storage at home. You can find out what the best folding electric bike should have in this article, but we can tell you that we're big fans of the GEO.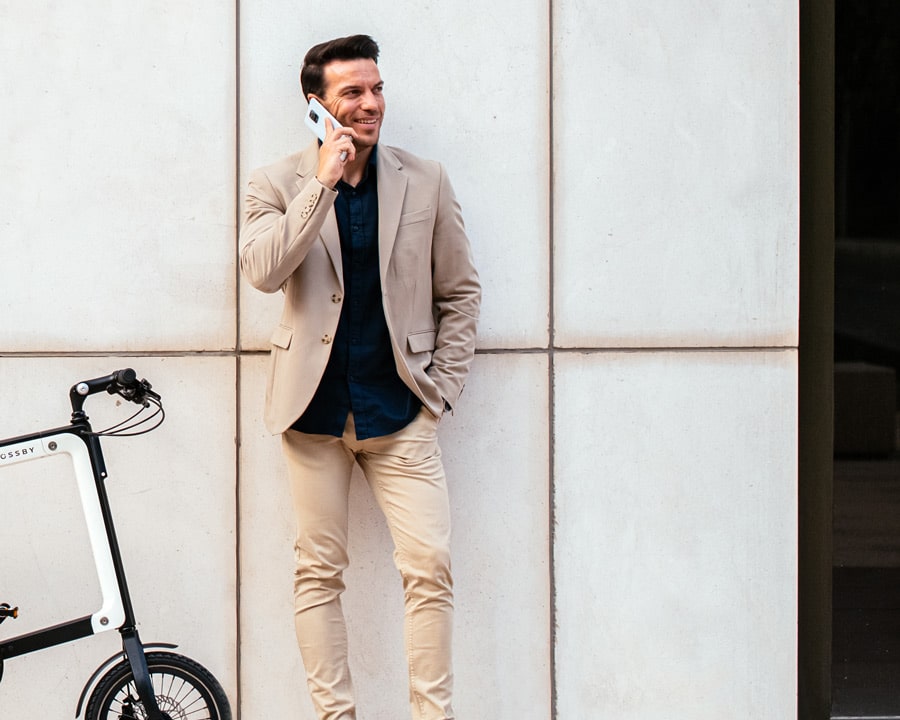 The first and essential step is to plan your route from home to your workplace. Open Google Maps or use a navigation app like Citymapper (which we frequently use in Madrid), enter your location and destination, and click on 'Directions.' Among the results, you'll find options for walking, driving, taking public transport, and cycling. Choose the cycling option to explore different routes to your workplace.
Typically, the app will prioritize routes with bike lanes or cycling-friendly paths. The less you interact with regular roads (especially those with heavy traffic), the better. Select one of the options provided by the app, considering safety, speed, and comfort.
Safety: Don't Forget Mandatory Accessories and Items
Front and rear lights and a bell are mandatory in countries like Spain (check your local laws). Don't forget to wear a helmet; it's highly recommended and should be used from day one, ensuring your safety and that of those around you. You might also find other accessories beneficial for your commute, such as glasses to shield against insects or glare, a cover to protect your bike when you leave it on the street, or special cycling gloves.
If you're cycling to work, a backpack will likely be necessary. Look for one that can attach to your bike's panniers or the bike's built-in system. We recommend a backpack with reflective strips and sufficient space for your laptop or notebooks, a water bottle, and your essentials for a workday.
4. Test or try a Day Without Time Pressure and in Light Traffic
This is one of the best recommendations we can offer. Before commuting to work on your bike for the first time, try a test ride at a different time when you have a free-day to analyse your route with peace of mind. If possible, choose a day with lighter traffic, for example, a Sunday, to keep your experience relaxed. This way, you can determine the exact time it takes, your physical capability to arrive without complications, and the route's comfort. You might also identify other needs, such as a water bottle holder or suitable cycling shoes.
Know the Traffic Rules & Laws
This is a crucial aspect when using a bicycle for your daily commute. Always follow the traffic rules and avoid riding on unsuitable paths like sidewalks.
For more details on this point, you can read our article (for riders in Spain)
¿Por dónde deben circular las bicicletas en ciudad (en España)?
Remember that you're using another vehicle, and both your safety and that of pedestrians are crucial. Therefore, you shouldn't wear headphones or use your phone while cycling, as these distractions could lead to avoidable accidents.
6. Don't worry about sweating
This is one of the main reasons people are hesitant to cycle to work. However, there are numerous ways to avoid arriving at your workplace all sweaty. First, wear breathable and comfortable clothing. In addition, carry a spare t-shirt, a small towel, and a small deodorant in your backpack. Another tip is not to wear the backpack on your back but use a specialized bag that attaches to the bike frame, a basket, or some type of pannier.
If you have to cycle long distances in warmer climates, you can always consider an electric bike. The pedal-assist motor with which they are equipped makes your commute much easier, eliminating concerns about sweating. Check out our post titled 'Best Folding Electric Urban Bikes' if you're thinking about switching to an e-bike.
7. Find a Parking Place or Somewhere to Leave Your Bike
If your workplace has a dedicated bike parking area or a secured room to store your bike during your workday, that's fantastic! Kudos to your company for promoting sustainable mobility. If not, remember that you should lock your bike with a suitable lock (you can even use multiple locks to secure different parts) in a place that doesn't obstruct pedestrian traffic (including people with reduced mobility).
Additionally, it's worth recommending a folding bike. No matter how small your office or workplace is, you can likely leave it next to a desk or furniture.
8. Learn a Bit About Bicycles
Understanding the basics of your bike is essential. Check the user manual and recommendations. Learn how to make minor adjustments, like putting the chain back in place if it comes off, and how to keep it in good condition. This knowledge will help you resolve issues quickly if needed.
At any time, all bike lovers might encounter a flat tire, a minor malfunction, or other issues. So, in case you need assistance at some point, look up the closest bike shops along your commute route Always keep this list handy because you might need it one day.
However, you can also search for tutorials on some essentials, such as what to do if the chain comes off, how to change a tire, or how to inflate it using a small pump. You can never know too much!
Now that you're familiar with these essential tips for cycling to work, what's left for you to do? Well , get down to work and give it a try. Both your health (physical, mental, and financial) and the environment will thank you.