The best folding electric bike is the one that meets all your commuting needs Period. That's the short answer, but also the most accurate one. Do you want us to elaborate a bit so you know exactly which model you should go for? Cool! Keep reading.
n a world where sustainable and efficient mobility is becoming increasingly important, folding electric bikes have gained popularity as a versatile solution for convenient travel. If you're looking for the best folding electric bike that suits your needs and lifestyle, you're in the right place. In this article, we'll explore in detail the essential features that a quality folding electric bike should have and provide you with practical tips to make the right decision.
The first thing you should do is thoroughly assess certain aspects of the journeys you'll be making.. In this way, you'll know exactly what your needs are and look for a bike that meets them.
In general, folding bikes are designed for urban environments, where slopes are not excessive, and where asphalt is the norm. But there are some that are very versatile and whose wheels allow you to easily navigate routes with a bit of dirt, such as parks. Furthermore,those with multiple speeds will allow you to climb those small slopes that you can find in your city without any problems.
Now, for those hills or slopes, it's very important that the bike isn't too heavy. Otherwise, it will be difficult for you to "climb" them, no matter how many different speeds you have. In fact, the number of speed adds weight to the bike, as they require various gears and sprockets.
Are you going to cycle many kilometres with your folding bike? Then a bike with small wheels may be too slow for you. However, keep in mind that, in general, they're not meant for covering a large range of kilometres daily. In that case, it's better to go for a traditional bike or a road bike.
And how many kilometres are too many? Well… around 10 o 20 kilometres a day is roughly the maximum for a portable folding bike. But if you're going to do more, you'll need wheels that are at least 26″, in other words, a traditional size.
The investment you make in something that will become your main mode of daily transportation is not the same as in something that will be used very sporadically. In other words, in the first case, it's logical to spend more, since you're paying for your daily convenience.
But in the second case, there's no need to spend a fortune on a bike with a titanium frame if you're only going to use it a couple of Sundays a month.
If you've come to the conclusion that you'll need it for your daily commutes to work or the gym, and these involve transfers, choose the best folding bike for your case. And that should definitely be one that allows you to get on a bus, train, or metro in a matter of seconds.
That is, one with a folding mechanism that's very simple and fast. You wouldn't want to spend 5 minutes at the metro/underground entrance trying to fold it, would you?
Key Features for Choosing the Best Folding Electric Bike
Without a doubt, the best folding electric bike should be light. Handling it to get it onto another mode of transportation or to store it should be simple and agile. For this purpose, a weight below 15 kg is highly recommended. Anything above that weight will make it very difficult (and uncomfortable) to lift it to descend stairs at the metro or your building.
To opt for the lightest ones, pay close attention to the material the frame is made of. Steel, while robust and resistant to impact, weighs three times more than aluminium. There are other materials, like titanium, which are also extremely light, but they're so expensive that they're often used in competition. Another material, innovative, very light, and with increasing use in bicycles, is composite. Its quality and performance are excellent, and its production and use are more sustainable when recycled compounds are used.
A complex folding system can become a real hassle in the long run. If you're buying one of these bikes that fold, it's precisely for that reason – so that it folds quickly and easily. Therefore, look for a folding and unfolding locking system that's easy for you to manage at any time. To ensure that this point is covered in the model you're interested in, search for opiniones, analyses, and comments online. Don't just rely on the description on the online store!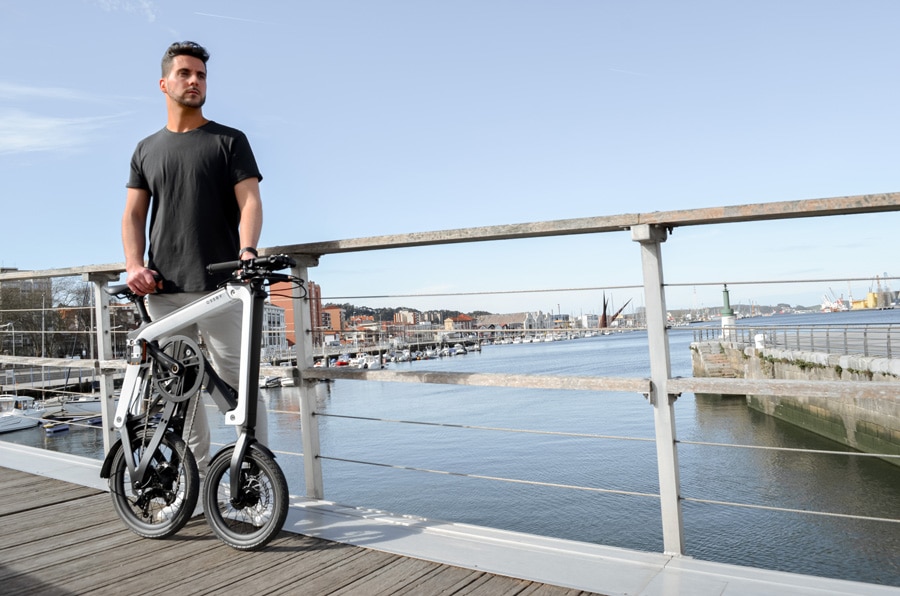 3. Different folding systems
Do you have very little space to store the bike when it's not being used? Then look for those that not only have a main fold in the frame area, but also have folding pedals and handlebars. In this way, it will be reduced to a minimum when needed.
What do we mean by portability? Well, That it offers you the opportunity to transport it comfortably. For this purpose, the structure must be light enough (in case you need to lift it at some point). But, in addition, it must have a fastening system that's easy for you to manage, for example, while walking through train corridors or through the building where your office is located.
Some models have handles for this purpose. But this simple structure really just adds unnecessary weight and dimensions, as the best electric folding bikes on the market can be moved with one hand without the need for additional elements. A good example is the Ossby GEO, which continues to roll on its wheels once folded, and it can be managed with just one hand, allowing for very simple and comfortable transportation.
Autonomy is crucial for an e-bike. Chose one with a high-capacity battery that offers a sufficient range for your daily commutes. Look for energy-saving technologies and consider the type of terrain you'll be riding on most frequently. An electric folding bike with a battery autonomy of around 50 kilometres will be sufficient for your weekly travels.
The motor is the heart of any electric bike. Look for a bike with a powerful motor that provides a smooth and consistent boost. Power is measured in watts, and a bike with a motor of at least 250 W is ideal for urban commutes.
Remember that electric bikes and their power are regulated in the European Union.
In Spain and EU, electric pedal-assisted bikes (EPACs) are commonly known as electric bikes. These bikes are equipped with an electric motor that only provides assistance while pedalling and switches off when a speed of 25 km/h is reached. The motor power generally shouldn't exceed 250 W. EPACs are considered conventional bicycles and do not require a licence or insurance. On the other hand, bikes that are electric and have a throttle and/or exceed a certain speed or power characteristics need to be registered and require a driver's license and insurance.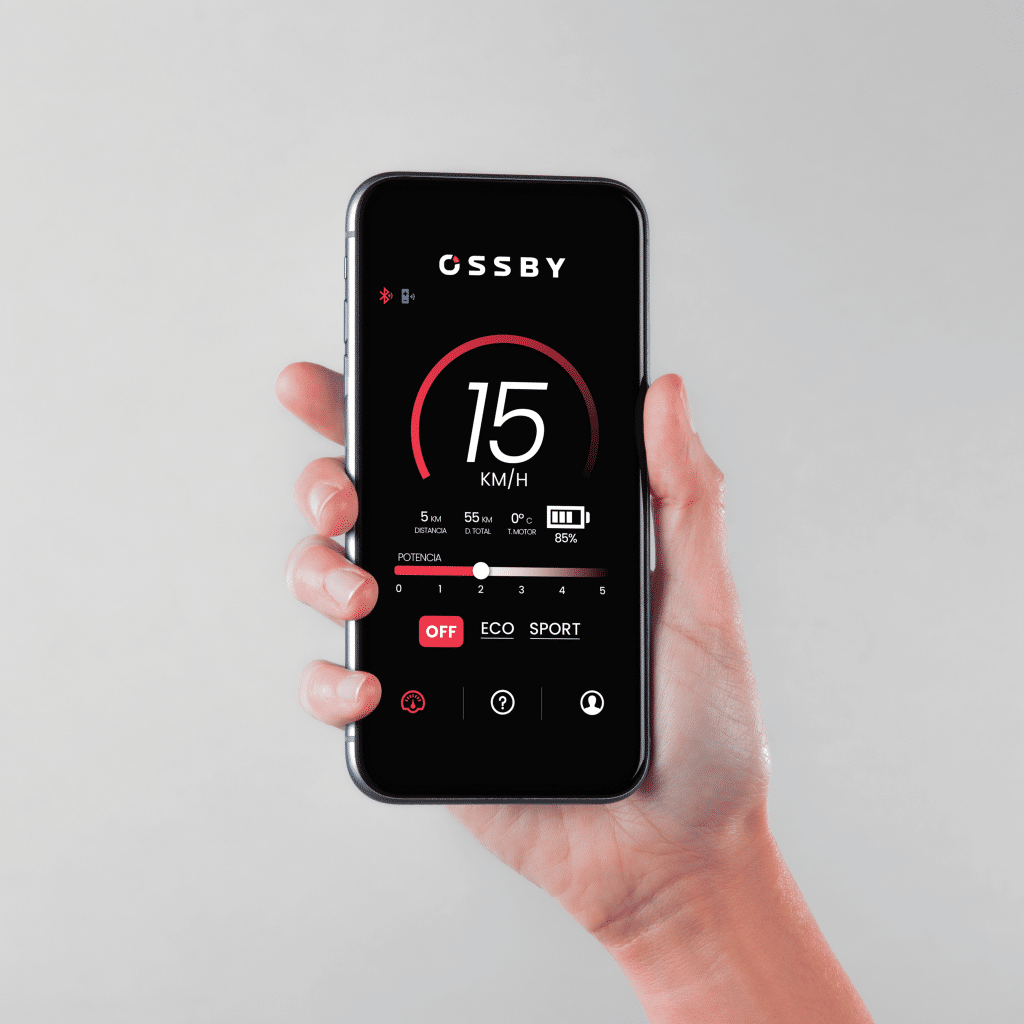 7. Connectivity and Extras
In the digital and technological era we live in, many electric bikes are equipped with cutting-edge technology. Look for models that offer Bluetooth connectivity to sync with tracking and control apps. Some bikes also come with integrated LED lights, USB ports for device charging, and digital displays for important information. As always, remember that every physical extra on the e-bike equals more weight.
8. Durability, Quality Materials, and Sustainability
Invest in an electric bike constructed with durable materials such as aluminium, titanium, or composite. These materials ensure the bike's strength and longevity even in adverse conditions. Check the manufacturer's warranty as an indicator of product quality. Furthermore, the longer the bike's lifespan, the more sustainable it will be. If taking care of the planet is important to you (which it surely is, given that you're looking for information on electric bikes for transportation), look for bikes that are locally manufactured and use recycled materials, and whose brands align with sustainability and sustainable development principles.
9. Maintenance and After-Sales Service
Make sure to choose a brand that offers good after-sales service and technical support. Electric bikes require periodic maintenance, so it's important to have a team of experts willing to assist you in case of issues. We advise you to research the brand a bit, read reviews from other users, and consider where the bikes are produced. It's not very pleasant to wait a month for a response, or to not be assisted in your language, or to wait more than three months to replace a part.
Some electric bikes or e-bikes don't have gears. This means that even the slightest incline can make the rider tired and sweaty, despite the extra assistance from pedalling. Why do some brands not include different speeds? Because they require gears and sprockets, which increase the overall weight.
In fact, this often happens with bikes made of steel, which are already quite heavy. But those made of aluminium or composite are generally lighter overall, so they can afford a few gears to provide comfortable riding. Regarding the number of gears, it's common for them to be between 3 and 7 speeds. Remember that the more gears it has, the heavier the folding bike will be.
What Is the Best Folding Bike?
Ok. you've analysed your specific needs and you know what features you should look at in each model to choose the one that's most suitable for your case. And now, armed with all that information, you naturally want to know which portable bike has the best features. Well, next we'll not only tell you which one it is, but also why it holds that honour!
If you're looking for the perfect combination of style, functionality, and comfort in a folding electric bike, you've come to the right place! Let's delve into the reasons that make the Ossby GEO shine in the world of two-wheelers.
Designed to give you a new experience of urban transportation and very versatile. With it, you'll once again feel the freedom to move around the city incredibly comfortably and safely.. Why? Keep reading and find out.
1. Lightweight, High Performance:

Do you know the average weight of this type of bikes? A hefty 18 kg. But… do you know how much the Ossby GEO weighs? Just 12 kg! That's right. All thanks to a frame made of sustainable composite, a carbon fibre fork, quality components, and years of engineering work. Our folding e-bike offers exceptional performance without sacrificing portability, thanks to its 14″ and 16″ wheels. You'll enjoy an agile and smooth experience on every ride!
2. Smart and Practical Folding System

If you're looking for versatility, the Ossby GEO will pleasantly surprise you. Its intelligent folding system allows you to reduce it to a compact size in a matter of seconds. Thanks to the Easyup system, the frame folds in a single (and extremely simple) movement. Need to take it in the car or on public transport? No problem! You can easily store it in tight spaces and take it with you wherever you go. Oh, and the GEO keeps rolling even when folded, making transportation easier.
In the following video, you can see how it folds and how the bike's dimensions are reduced (from 98x122x60 cm to 98x75x25 cm) for easy storage anywhere.
3. Innovative and Elegant Design:
At first glance, the Ossby GEO will captivate you with its modern and elegant design. Every detail has been carefully thought out to offer you a bike that not only takes you from point "A" to point "B" but also makes you look good while doing it. Its minimalist aesthetic combines with clean lines and sophisticated colours, making it a true mobility gadget with style. Furthermore, due to design patents, you won't find a bike like it. Because being different… is awesome!
Check out this video about the design of the GEO.
4. Electric Power in Your Pedals:
One of the most exciting features of the Ossby GEO is its electric assistance system. Imagine going up the hills or tackling long distances with an extra boost in every pedal stroke. With its efficient and powerful 250W motor, you'll feel how hills become easier to conquer, and your rides turn into truly enjoyable experiences.
Furthermore, a single charge can take you up to 50 km. Roughly a week charge of commuting on a daily basis!
5. Technology and Connectivity:
The Ossby GEO is more than just a bicycle – it's a technological experience! With advanced connectivity features like its mobile app, you can adjust assistance levels and monitor your activity. Moreover, its intuitive control panel keeps you informed about battery status and speed, giving you complete control over your journey.
On the other hand, if you're not a fan of Apps, you can use an additional Bluetooth Device that attaches to the handlebar. With it, you can easily increase or decrease the motor assistance level with just two buttons.
6. Quality and Durability:
We understand that purchasing an electric bike is a significant investment, and the Ossby GEO is designed to stand the test of time. Manufactured in Spain with sustainable high-quality materials and robust components, our e-bike will accompany you on countless city adventures, enduring the passage of time and changing conditions Furthermore, the bike's components have been meticulously crafted for quality: carbon fork, hydraulic disc brakes, foldable pedals, ergonomic saddle...
Check out all the technical specifications here.
6. Innovation and Sustainability:
The Ossby GEO is more than just an efficient mode of transportation; it's also a commitment to a more sustainable future. Our decisions are aimed at minimizing negative impacts on the environment and enhancing people's lives. We seek efficient solutions to optimize material usage.
For the GEO's frame, we've chosen an innovative material – bio composite. This composite material is made from recycled fibers of wind turbine blades and plant-based resins. In the manufacturing process of our eBikes, we achieve an 82% reduction in carbon footprint compared to bicycles made from aluminium, fibreglass, or conventional carbon fibre, as we eliminate welding and highly polluting complex processes.
But our efforts to improve our planet don't stop there – we also work on the Sustainable Development Goals (SDGs) and offset the carbon footprint by planting a tree for every bicycle sold. Discover the Ossby Forest here.
And now that you're acquainted with the best foldable bike, what's left to do? Grab one and experience its lightness, compactness, and comfort first-hand. Plus, you have a lifetime warranty (if you register it through the web form). So, what are you waiting for?